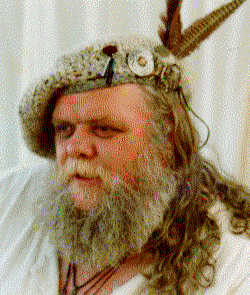 Charley MacGowan
I'm 45 years young, and have been a musician for the last 37 years. Music has always been an integral part of anything that I have been involved with.
Rock and Roll, Blues, Folk, Country Western, Traditional Scottish & Irish.....You name it, at some point in my career I have done it. At present I do mostly the Scottish & Irish traditional music, performing at Renaissance Faires throughout California and Nevada. I love all types of music, but the Scottish & Irish music fits my persona at the Renaissance Faires.
At Renaissance Faire, I am the clan Chieftan of Clan MacGowan, one of the historical re-enactment groups located in Southern California. This year marks our 7th season as Faire participants. My historical character is Scottish, therefore I perform traditional music suitable for the entire family. Not that I haven't been known to play a bawdy tune or two after hours for the other participants.